Planning a Newport RI wedding contact us for convenient accommodations for your wedding party and wedding guests.
Located in the heart of historic downtown Newport, Rhode Island, The America's Cup Inn has seventeen unique rooms and six suites styled with colonial era furnishings and wall coverings.Complimentary breakfast and afternoon tea.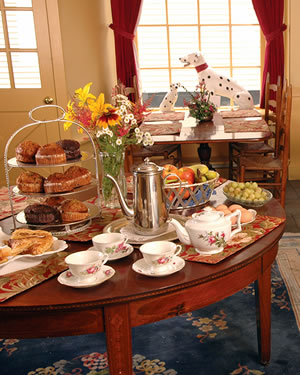 Each unique room is individually styled with colonial era furnishings and wall coverings. Your comfortable room has been decorated with every attention to detail and represents the best of classic New England. For example, some rooms have four poster mahogany beds with canopies, co-coordinated draperies or antique wicker furnishings.
Once here, you'll appreciate the convenience of being located on Newport's historic Thames Street with its cobblestones and gaslights. You'll never need to get into a car to enjoy Newport's best restaurants, night clubs, quaint shops and antique stores. You'll have access to sailboats or motor yachts to tour our breathtaking, world-renowned harbor and waterfront where you'll see some of the world's most elegant yachts.
Our staff is dedicated to assuring that your stay with us is as comfortable and enjoyable as possible. Enjoy our complimentary breakfast and a high tea later in the day.
Please make plans now to visit us at the historic America's Cup Inn. We eagerly await the opportunity to make your stay in Newport one of your most cherished vacation memories.